Le Bernardin: 4 stars etched in bikini wax


"THERE is reason to pity the nearly perfect. They have so many ways to falter. In thrall to their own legend, they might well overreach, trading glory for folly, or they might simply coast, converting acclaim into idle narcissism."

And so begins Oliver Stone's "Alexander". But wait, that's not Anthony Hopkins in a toga with an enslaved tranny-boy fanning his chundle, it's Frank! He's reclining on an alabaster chaise longue wearing nothing but a strategic piece of poached lobster. For today, Frank takes on a review of an ancient and hallowed culinary institution, Le Bernardin. By my Shrek IV Happy Meal watch, this makes three 4-star Times reviews for Le B over the past 10 years. Damn. So how did a place serving so much of Frank's pet peeve (raw seafood) manage to worm its way into the travel-size bottle of Courvoisier that beats inside his ribcage? With subtlety: Le Bernardin "eschews high drama," which is more than I can say for Frank, in T minus ten minutes, when Faye Dunaway shows up at his door with a mallet and a .45:

"Le Bernardin has aged with astonishing grace, more Deneuve than Dunaway," (JUST WAIT) "doing what it must to remain youthful without ever making an elastic fool of itself." Has Faye Dunaway joined Gumby and Gromet in the pantheon of beloved elastic fools? Or does "FOOL" refer to her new role as reality-TV judge on "The Starlet," and does "ELASTIC" mean he knows something we don't about her thong? Listen, I'm just doing the math, I don't write the numbers.


Well, Starlet or Gromet, she can do some damage with those steel-toed jester booties either way.

And what about those who are underwhelmed by Le B's subtlety? "Because of the restaurant's legend they expect a riot of flourishes, an explosion of fireworks. Nothing less than being made to levitate above the table will do." Well, honestly, Frank, last time I went to Per Se, my waiter ate a hot coal, pooped a diamond and was then robbed of it by a band of warlords who stole my clothes and lit my crotch on fire. It was damn sexy.




But Le Bernardin, by contrast, "has all the sex appeal of a first-class airport lounge." A-ha! So even as he dutifully dabs his pinky into $60 appetizers and seven-course tastings, he retains a hint of his monastic slant, apparent in his praise of Le Bernardin's "sustained belief in the sacredness of piscine flesh," which I think is a direct quote from my Confirmation.

My conclusion? "Damn, I'd eat the shit outta that shit," but then, for special occasions, I usually treat myself to the clean Dojo, so of course I would. Frank's conclusion? "Le Bernardin amounts to the restaurant equivalent of old money, so secure in its station that it need not strut." He has a point: I did hear that V Steakhouse has a stucco mansion in Boca with white porcelain Versace cats lining the driveway. And we all know, there's nothing classier than old money: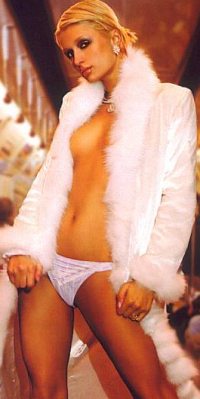 But I'm not quite ready to thump my chest, burp, and leave Frank's panegyric to Le Bernardin alone— with a quizzical cock of my head, and baffled squinting of my eyes, I leave you with this:

"[Chef Eric Ripert] has sidestepped the more flamboyant manifestations of celebrity chefdom…except for occasional appearances on the 'Late Show With David Letterman' and his participation six years ago in an advertising campaign that featured chefs in the buff."

Eric Ripert stole Frank's heart.


And I know where he put it...