Taboon: Norwegian Woody
"THE restaurant Taboon was built from the ground up in a peculiar and particular sense. Its back story is a tale of love and parquet."



(for a tale of love and parakeet, please see this guy.)

No, this week's review was all about wood (which of our bawdy Count's missives aren't? Zing!. The review was [ironic gong-bang] long in getting to the food, and heavily focused on Danny Hodak and Gadi Ruham, professional woodsmithying floormongerers.



"Well, I thought it was very informative."

So did Frank: "Of the infinite ways that restaurants spring into being, Taboon's is surely among the more unusual, and I probably wouldn't find it charming if the result had been a bust." Not all things that spring into being from strange unions are charming after all.


To wit, the Labradoodle, aka, the Devil's Dingleberry (aka Billy Dee Williams.)

But when Frank gets past the wood, he's still, how to say, excited: "Taboon puts a deft, sophisticated spin on Middle Eastern food, and it's better on the far side of its first anniversary than it was at the start."

Taboon has incited more boldly laudatory language than any review of recent memory: "superb," "extraordinary," "sublimely seasoned," "smartly and inventively" tweaked, etc etc.

"Taboon's food remained impressive, and no meal was without its formidable pleasures. One of these was Taboon's hummus, which carries an extra, unexpected jolt: jalapeño."
OH MY GOD WHO WOULD HAVE EVER THOUGHT OF DOING THAT??? WHAT A SURPRISE!!!


Oh. That's right-- I forgot. My refrigerator invented it about 6 years ago.

But the real secret to Taboon's success has more to do with their central brick oven:

"Every hot dish spends at least some time in this hive-like chamber, which imparts a faintly woodsy, smoky quality to its charges and perfumes the air. It's the Kathleen Turner of cooking implements: a fiery diva at center stage."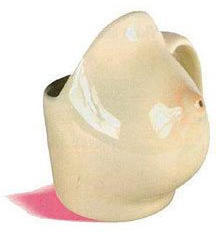 The Pam Anderson of cooking implements.



The Elton john of cooking implements.



The Olsen twins of cooking implements. I could do this forever.

"Efi Nahon, the chef whom Mr. Cohen trained back in Tel Aviv, knows how to coax an expert performance from [the oven]."

You can hear all about chef Nahon's techniques from the oven itself, who will be discussing its performance methodology Inside the Actors Studio with James Lipton on Bravo tonight.


Let's….talk….about….a little something you produced…in 2005…by the name of…FALAFEL!!" [roaring applause]

Taboon also has a way with nice little touches: "The milk for coffee arrived heated. Smokers are given an area out front with a bench, several chairs, potted plants and a proper ashtray."


Ooooh! That is charming!

"And we had efficient, even ebullient, service from a waiter who was clearly as excited about promoting Taboon's food as we were about eating it." Excited, huh?