You'll Probably Just Be Getting Back from a 10K Jog Around Then, Right?
I'll be on local Air America radio (1190) tomorrow morning at 8:00 a.m., discussing the Digest, Frank, the Times, and whatever else comes up on WLIB's food show, "Leftovers."

So set your alarm clock to "Radio" and assure that I will enter your nightmares far more concretely than usual!

Also, for anyone who might have been made curious about Chicago's Alinea restaurant by the New York Times "Year in Ideas" piece, you can read about my experience there last week.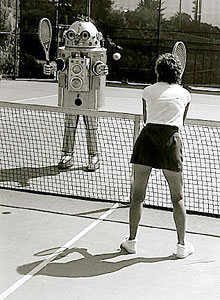 It was fun and futuristic.